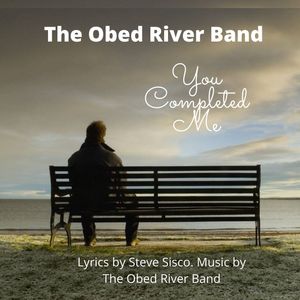 Obed River Band Music Review
  Song Title:  You Completed Me
  Lyrics:  Steve Sisco
  Musical Composition:  The Obed River Band
  Recording Engineer / Mix:  Dewayne Wagner / ORB
  Vocals:  Trent McCoy 
  Cover Design:  Dallas McCalister
 Back up vocals by Dewayne Wagner and Steve Sisco.  Lead Guitar,     Dewayne Wagner /  Rythmn, Acoustic Guitar, Trent McCoy / Bass,     Steve Sisco / Drums, Dallas McCalister
Distributor:  CD Baby, Inc. / CDBaby is the largest online distributor of independent music in the world.  
Release Date:  Target date for 150 + online streaming outlets set for June-July 2020.  This single soundtrack will be available on The Obed River Band's website Music Page.  Visit our site often for this and other new soundtracks the band will be bringing your way.
Availability:  As a single soundtrack and one of ten songs on our new album set to be released this summer.
Lyrics:  Written by ORB Bass/Mandolin, and Fiddle player Steve Sisco, this song tells a story about a man who loses his wife who was also his best friend. It lets you know how much she meant to him and that he isn't complete without her in his life.  
A free music preview and download purchase will be available on our website and several of the online streaming outlets such as iTunes, Google Music, Amazon, etc. 
Song Description:  This song is a soulful country song featuring powerful, heartfelt vocals by the band's lead singer Trent McCoy and some great harmony backup vocals by lead guitarist Dewayne Wagner and bassist/songwriter Steve Sisco. 
This is a song that could easily fit into the same category as Vince Gill's "Go Rest High on That Mountain".
The musicality of You Completed Me is pure Obed River Band music with a twist. 
If you enjoy good rhythm guitar playing with some neatly inserted melodic acoustic guitar strains, this song could easily become one of your favorite Obed River Band songs.
Trent and Dewayne do a great job on this song with both rhythm and lead "acoustic" guitar parts. 
Lead guitarist Dewayne Wagner adds a new dimension to the band's normal style of play when he picked up an acoustic guitar and added some very interesting accents that are not often heard in country music.
Dewayne's departure from using his electric guitar on this song sets a new standard for the band's lead guitar strains in their original music.  
A solid, strong beat and bottom-end to this soulful country song are delivered by bassist Steve Sisco and drummer Dallas McCalister.  The listener will get to see what sets this four-piece country band apart from other groups within this genre. 
Steve and Dallas lay down a steady beat that's strong enough to dance to while also providing a chance for the vocals and melodic guitar strains to stand out.  
Some people that have lost a spouse or loved one may get a bit emotional when listening to this song for the first time.  A few who have had an opportunity to listen to this song were moved to tears by the lyrics and beautiful musical strains. 
They also said they loved it and would not change a single word in it.
Steve Sisco is a great storyteller who can create powerful, beautiful, moving lyrics that paint a picture most songwriters are unable to achieve. 
We think you're going to love this song.  
Available for listening and ordering soon.
(c) 2020 ORB Publishing. All Rights Reserved.