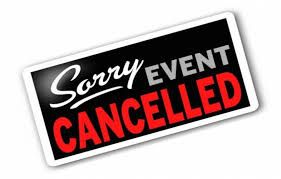 Will The Music Industry Recover From The Pandemic Shutdown? 
This is a question being asked by people from many industries today. 
Since we are involved in the music industry, we have concerns but we also have faith that we will return to perhaps an even better track we were on in the not-to-distant future. 
The recorded music industry in America in 2019 hit 21Billion Dollars and grew for the 7th straight year, so like our amazing economic boom we were experiencing in our country, the recorded music industry was also doing well which is why we decided to spend more time creating and recording our music. 
Musicians get paid in a variety of ways...
Live shows, royalties, advances, selling merchandise, website downloads, CDs, and other forms of hardcopy music products such as Vinyl Records, along with licensing fees and if you are fortunate enough to make it to the top in your field, TV and even movie appearances. 
As an example of this, Taylor Swift was listed as the highest-paid country singer/songwriter/entertainer in 2019, earning a whopping 185 Million Dollars. 
The Eagles earned $100 Million in 2019 and are one of the great musical success stories within our industry. 
Live shows account for the largest percentage of musicians and entertainers' incomes. 
Today, due to the COVID-19 Global Pandemic and social distancing, live music shows and concerts have been shut down for several weeks and at this point, nobody can say how soon they will return. 
Some artists and musical entertainers like Kenny Chesney and others have turned to "live streaming" events to keep their fans engaged and allow them to see and hear them from the comfort of their homes.  
It is too early to report any results on how this is working out financially for those artists who are conducting these online events where they are charging a fee to watch their shows.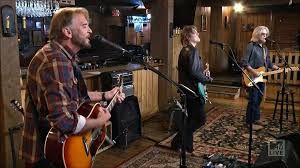 Daryl Hall of (Hall and Oats) fame is a pioneer in this field with his weekly show, "Live From Daryl's House"  - - one of the most successful internet streaming shows of it's kind due mainly to the time (and his immense popularity and talent as a songwriter and musician) he and his band have been working with this format. 
His show is now being aired on the Cable Network AXS.TV 
Daryl told Dan Rather in an interview that this idea has helped him and John Oats sell more of their music but the real financial boost to this songwriting duo and their band has been the exposure they have received via the Internet (Youtube etc,) which in turn has resurrected their careers and has created a huge demand worldwide for their "live shows" where the real money is made. 
It has been reported that his show via Youtube is reaching millions of viewers around the world each week! 
AXS TV has agreed to air 13 episodes of Live From Daryl's House. 
We hope they continue airing Daryl's show on cable TV because he has a lot of great artists and musicians joining him on his weekly one hour show. 
We highly recommend you tune in on Sunday night's to watch this show. 
People like Joe Walsh from the "Eagles" as an example make guest appearances on Daryl's show. 
They are showcased and they sit in with the band and get to play and sing their hits as well as Hall and Oat's hits making the show extremely entertaining. We especially enjoy the casual, down-home atmosphere this reality show offers.
It gives us all a chance to get to see these musicians in a more relaxed setting.  
In a recent show, Darius Rucker joined Daryl and the band at his house in London where they performed some great songs such as Wagon Wheel, (one of Darius' recent hits and one of our bands' favorites too).
Is Live Streaming in the future for The Obed River Band? 
Many of you have asked why we are not on Youtube or some of the other streaming outlets and do we plan to get our own Youtube Channel?
The short answer to this question is yes, however, "We are not ready yet". 
A lot of steps must be taken before an Indie band such as ours puts their music online. 
Our songs must be properly registered along with a host of other details like coding each song before we go online. 
We are fortunate in the fact that we are not a "cover band" so we would not be paying royalties on songs that would appear online. 
Our music has to be protected and coded properly before we begin streaming our music online ...
SRC and ASRC codes for digital albums and single soundtracks, along with Barr Codes, copyright registrations, digital album, and song covers, etc., must all be in place before entering the streaming world. 
There is also a small financial side to all of this. 
Although nothing major, it all adds up to the band having the necessary cash flow to make these things happen. 
We have the music, (our original music) that we continue to produce that can be released and shown in video formats for Youtube, Instagram, Facebook, TikTok, and other streaming outlets. 
We do plan to release one of our single soundtracks as soon as possible. 
We have also been talking about producing a live show from Crossville for a global streaming audience for some time now... we simply need to have a little more time putting all this together, plus the finances to make this happen. 
Selling our music CDs, selling digital downloads of our album, and single soundtracks via our website plus performing at live shows and events are what we need to do to create the cash flow we need to take the next step which will be live streaming shows from our hometown of Crossville, TN.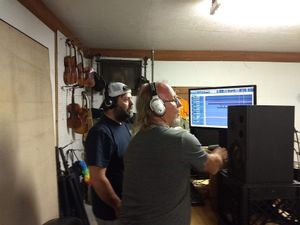 We are now back to work recording all the new songs we have written and produced over the past year or so. 
Being cautious of course, we are not opening our recording or practice sessions to the general public as we did before the COVID-19 pandemic came along. 
We'll let you know when we can open the practice sessions up again, and when and where we will be putting on some live shows - in the meantime, we will continue working on the new album and some single soundtracks we plan to have our music distributor release to the many online sales and streaming outlets very soon.
We have lost a few live show opportunities since the virus lockdown, so maintaining our website hosting fees, and other normal financial obligations have been a challenge for the band. 
THANK YOU!
We want to thank you for helping us out with your donations, your prayers, and your support.
We are very grateful and humbled by this.
NOTE: You can donate any amount by simply going to our website and clicking on the DONATE button near the bottom of many of our website pages or by simply mailing a check to the band. 
Complete details on this are included here.
The Album and Single Soundtracks are also available on our website, so if you have not purchased the album or any of the soundtracks, please visit our music page where you can listen to excerpts of each song and place your order. 
All this will help us to continue our progress toward reaching a global market with some great Obed River Band music. 
Please don't forget to leave us a comment (Google loves to promote websites that include lots of comments to posts)... and be sure to sign up for our Email Newsletter if you haven't already done so, Like us on Facebook @obedriverband - and share this post with your friends.
New Single to be Released Soon ... 
We will be releasing a brand new single soundtrack soon. 
This is a great new song written by Steve Sisco and produced by The Obed River Band. We think you're going to love it. 
Some people that have had a chance to hear it say this could make it into the hearts of millions of people and maybe a real winner on the Billboard list.
This song will be on our new album and it will be the first of many single soundtracks to be released by our online distributor very shortly. 
The title of the song is "You Completed Me". 
Written by our bass, mandoline, and fiddle player, Steve Sisco ... we believe this song may have what it takes to prove to the world that Steve is one of country music's most gifted songwriters. 
Dallas has been working on the digital cover and all the items our music distributor requires that will help get this new Obed River Band song to all the streaming outlets.  
Here's a sneak peek at a couple of the digital designs Dallas has created for this song.  Be sure to leave us a comment on which one you like. 
NOTE:  If you are signed up for our Email Newsletter, we will be including more cover designs Dallas comes up with and a way for you to vote on the one you like best in upcoming newsletters... you could even win a FREE copy of the new soundtrack, so be sure you're signed up for our newsletter.  Go Here To Get Signed Up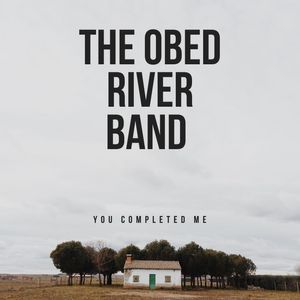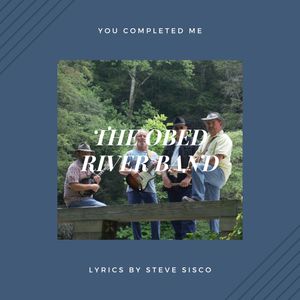 How Soon Can I Hear This New Song?
At the time of this writing, we are still editing and fine-tuning the tracks for the recording. The band is very anxious for you to hear it and extremely excited about getting it registered and over to our distributor so the rest of the world can hear it as well.
As soon as we can upload it to our MUSIC PAGE on our website, we will notify you through our Email Newsletter so you can hear a short clip of it and download it to your favorite device.
WHAT CAN YOU TELL US ABOUT THIS NEW SONG?
Steve wrote this song shortly after the band began recording again, so it was added to the list of 17 new songs the band created over the past year.
Being new, the band listened to it before deciding what to do with it. 
The band began working on the music for the song and once they completed it, they thought so highly of it, they voted to not only include on the new album, but they also decided it was soo good that it should be given to their music distributor as soon as possible to become the first song to be released from their new album.
The reaction by a few people who have had a chance to hear the band play it was so strong, the band felt there is only one thing to do - get it out to the world as quickly as possible!
Allen Snow, Crossville, TN was brought to tears when he heard it and told the band that this song is going to touch a lot of people's hearts.
Trent McCoy hit a home-run with this song.  His lead vocals on this song are powerful, clear and haunting.  The harmony is right-on and the lyrics are bound to leave many people speechless.
Will The Music Industry Recover - Will The Obed River Band Continue to Create Music That Touches The Hearts and Minds of Fans Across the Globe?
We believe the answer to these questions is a resounding YES!
It is, without doubt, a worldwide tragedy that is not to be taken lightly, and our hearts go out to anyone who has contracted this dreaded virus and especially to those who have lost loved ones to it.
We are anxious for a cure or for it to go away forever.  
We urge you to take it seriously, as we have, and to do all you can to stay healthy and safe. 
We are working hard to do the same as we move forward with work on our second album and we can't wait to see you at one of our live shows!
Enjoy the music!
Trent, Steve, Dewayne, and Dallas
The Obed River Band
(c) 2020 ORB Publishing Group. All Rights Reserved.