Meet The Obed River Band Members...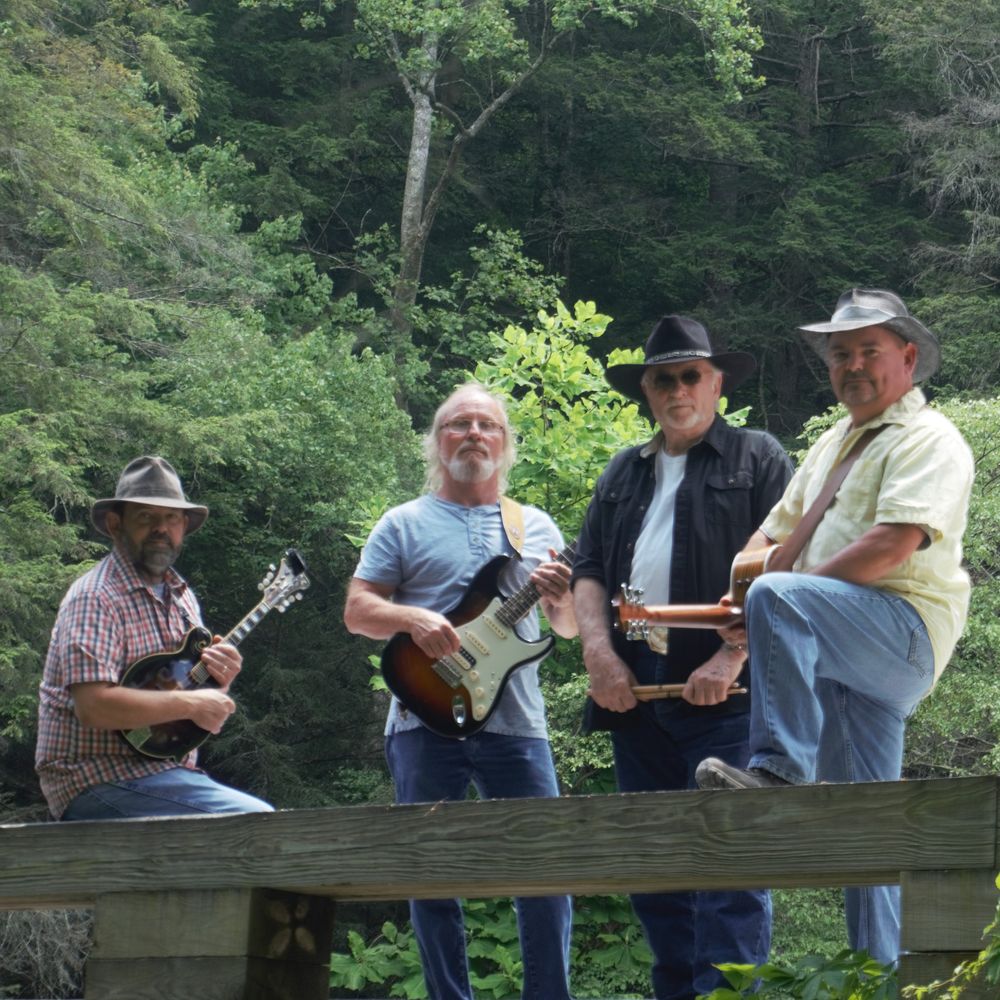 Original Four Band Member Bios
Talented & experienced
( Photo, L-R - Steve Sisco, Dewayne Wagner, Dallas McCalister, Trent McCoy)
STEVE SISCO plays bass guitar, mandolin, and fiddle.  He can play all stringed instruments, is a gifted singer, songwriter and a terrific band-mate according to his fellow Obed River Band members.
Born in Crossville, Tennessee on June 6th, 1966, Steve was bound to become a musician.  His family's pastime was playing and singing gospel and bluegrass music so it wasn't long before he joined in. 
Over time, Steve became a serious stringed instrument player, singer and songwriter.
In the mid-90's he played the mandolin with The MIsty Mountain Boys, a five piece bluegrass band.  He also played with the James Dandy Band, a country and southern rock band during this time period in his career.
In 2004 Steve helped form The Eleventh Hour, a bluegrass/gospel band that traveled for 7 years throughout Tennessee, Kentucky and Indiana.  Steve is a prolific songwriter who wrote several of the gospel songs that the Eleventh Hour performed over the years the group was touring.
Steve plays all stringed instruments, but focuses these days on the bass guitar, fiddle and mandolin with The Obed River Band, a four piece country, gospel band that places great emphasis on writing, producing and recording their own songs and music. 
Steve is an excellent singer/songwriter and many believe his song lyrics are among the best in the music industry.  He has a passion for creating, playing and singing good family oriented music.  
Since helping form The Obed River Band in the fall of 2018, Steve says he couldn't be more pleased to be part of a band that is fully aligned with his style of music and his desire to create songs that everyone can enjoy.  
DeWAYNE WAGNER, lead guitar, singer, sound engineer and mix artist. 
Dewayne also plays bass guitar and does a fantastic job as a lead singer and back-up vocalist for The Obed River Band.  Born in Louisville, Kentucky and raised in Crossville Tennessee, Dewayne began playing the guitar as a young boy.  His career as a singer and guitar enthusiast started early.  He says. "My mama started teaching me how to play the guitar when he was just six years old."
Thanks to his mama, who had a love for music, and her son.. we get to enjoy some great music from this talented lead guitarist and singer. 
Through the years, Dewayne was blessed to have an opportunity to play with many notable Gospel groups such as the New Hinson's out of Hendersonville, Tennessee, Donnie Young  and New Beginning out of Dayton, Tennessee.  He has also played with the Trackside Band from his home town of Crossville, Tennessee and country singing star, Becky Hobbs.
He says he hit a "home-run" when he married into the Singing Witnesses out of Sale Creek, Tennessee!  
This versatile musician and singer has worked with - and been invited to play and sing with a wide variety of artists and bands from all types of genre's.
Dewayne has also gained a strong reputation for his skills and abilities as a recording engineer and mix artist. 
He gives a great deal of credit for these abilities to his good friend and fellow artist, Jim Hallengren who now resides in Dayton, Tennessee.  Jim played with rock star, Bob Seger and the Atlanta Rhythm Section.  Jim has become well known for his talent and skills in the recording studio . 
Dewayne joined The Obed River Band, a local four-piece band that writes and produces it's own music in the fall of 2018.   
Dewayne also plays bass guitar when Steve Sisco moves to the fiddle or mandolin.  He sings lead on some songs and does great harmony as well. 
According to the other band members, he has become a tremendous asset to the Obed River Band's music and to their live performances.
He and the band spent the first seven months writing, producing and recording ten original songs for their debut album entitled, The Obed River Band.
Dewayne's  Guitars of choice: Fender, Strat and Tele
DALLAS McCALISTER, Drums, percussion, vocals, songwriter, marketing
This Michigan born drummer spent over two decades playing with several top performing bands and artists during the iconic Motown era. 
Pete Flores, Pontiac Michigan Federation of Musicians President said this about Dallas; "He is one of Detroit's best all around percussionists, and one of our most sought after drummers.  This guy can play with anyone!"  
Dallas McCalister, drummer, percussionist, songwriter, vocals.  Toured with singer, Hammond Organ phenom Frank Dunn, (ABC Booking Agency).  Also toured with comedian, singer, organist Woody Martins.  He was the House band drummer at Fazio's Ft. Lauderdale, Florida.  He had an opportunity to sit in and play a live set with Jazz artist Harold Betters in Pittsburg,  PA. saying that this was one of his most exciting highlights of his career. 
Dallas also played and sang with The Page Five - a show band that featured two drummers, (Dallas and Steve Booker).  This band also featured singer Edyie Andrews.  
Dallas played and recorded an album at the original Motown studios with Rock Guitarists Rick Stockwell and Bob Statin and he spent ten years working with Frank Dunn and Spring Fever, a four piece show band that featured singer Claudia Cartwright (Lorio Ross Entertainment).  
Dallas joined The Obed River Band of Crossville, TN in the fall of 2018, saying that this band of four seasoned musician, singers and songwriters may be the most exciting and challenging opportunity of his long, storied musical career. 
Dallas says, "I love these guys and want to do all I can to help them get their music to the entire world.  They are a joy to work with and their music  touches the heart and soul!"
Drums of choice:  DW Drums, Ludwig Supraphonic Snare Drum, Sabian Cymbals.  
TRENT McCOY, lead singer, acoustic guitar, songwriter.
Born and raised in Crossville, Tennessee on August 31st, 1967, Trent says he would not live anywhere else in the country.  He was raised on Potato Farm Road where he learned to play the guitar and sing at a very early age.
His vocals are said to be - by many of his friends, family, fans and fellow musicians to be as strong and pure as anyone they have ever heard in the country and gospel music business. 
After visiting the band during one of their practice sessions, Nashville songwriter Gerry Dewey (Dewey Music) said that Trent has one of the strongest country singing voices he has heard in many years.
Trent has been playing and singing most of his adult life and has worked with several bands and artists during his career.
He is especially proud of the time he spent with the Eleventh Hour gospel quartet/band.  Trent toured throughout Tennessee, Kentucky and Indiana for 7 years with this four piece band.  
He also played with The James Dandy Band and The Southern Rascals, a southern rock, and country band from his hometown of Crossville, Tennessee.
Trent helped form The Obed River Band in the fall of 2018 and does most of the lead singing and rhythm guitar work with the band.  He also writes and produces some of the country and gospel songs for The Obed River Band with his brother, Mike McCoy.
This fine country singer is destined for great things, says fellow band-member, Steve Sisco who has had the privilege of working with Trent for many years.  Drummer, Dallas McCalister said in a recent newsletter that Trent is one of the best all-round singers he has ever worked with... and that's saying a lot with his long career.  
Trent's instrument of choice:  Taylor Guitars 
MEET NEW BAND MEMBER ... Roland Pray
This talented bass player also plays guitar, sings and is a songwriter as well.  
Roland will be playing bass for the band most of the time, but with his talent, experience and skill-sets you can look for some great things to happening with this already talented and versatile band.
  TO LEARN MORE ABOUT THE BAND - GO HERE